Pontyberry is a fictional Welsh town that the Stella series is set. It is thought Pontyberry is in between Port Talbot and Abertawe. 
Pontyberry

Vital statistics

Type
Valley town
Level
Working Class
Location
South Wales, Wales, United Kingdom, Europe
Inhabitants
Morris Family, Kosh Family, Simpson Family, Williams Family
Parts of Pontyberry
Edit
There are many parts of Pontyberry;
-Big Rae's Boxing Ring
-The Frisky Fox
-Pen-y-Gorlan Street
-St Joseph's Church
-Jensons's Hairdressers
-Chodaury corner shop
-St Joseph's school
-Bryn Hill
-Town Hall
-Dai Davies International Car Sales
-Tantastic Bodies
-Fingers and Thumbs Nursery
-St Catherine's Hospital
-Pontyberry Rugby Club
-The Bap Factory
-The Bap Factory bedsit
-Ivan Schloss Funeral Directors (Series 5)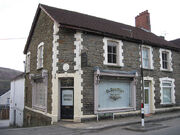 Behind the laughs
Edit
Pontyberry is mostly filmed in the Rhonda valleys, Port Talbot and Ferndale in South Wales.
Ad blocker interference detected!
Wikia is a free-to-use site that makes money from advertising. We have a modified experience for viewers using ad blockers

Wikia is not accessible if you've made further modifications. Remove the custom ad blocker rule(s) and the page will load as expected.