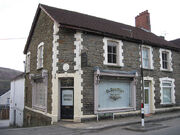 Simpson's Funeral directors (Est 1934)is a Funeral Services business in Pontyberry with their funeral parlour at 25 Gough Street Pontyberry AM7 6PB. The company is owned by Daddy Simpson who has had numerous employees including Paula Kosh.
In 2015, the company closed down as Paula Kosh had moved to New Zealand with Daddy Simpson who had retired at the age of 84. 
Former
The funeral parlour holds the (fictional) telephone number of:
    01632 960 635

The filming location for the funeral parlour is:
    1 Ffrwd Terrace, Llanbradach, Caerphilly, Wales, CF83 3NR

Ad blocker interference detected!
Wikia is a free-to-use site that makes money from advertising. We have a modified experience for viewers using ad blockers

Wikia is not accessible if you've made further modifications. Remove the custom ad blocker rule(s) and the page will load as expected.